Bed and Breakfast near Swansea Grand Theatre
Leonardo's Guesthouse is a family run bed and breakfast in Swansea. We are located near the Swansea Grand Theatre. When you thinking of visiting Swansea for a show in the Grand Theatre make sure to book a room in our B&B near the Grand Theatre. You can make it a night out with a nice meal in one of Swansea's restaurants and join Swansea's nightlife after the show for a few drinks. We are only a fifteen minute walk away from the Grand Theatre and Swansea City Centre.
Our B&B has stunning views over Swansea Bay and we offer stylish and comfortable single, double and en-suite rooms for a very competitive price. Book a room in our B&B now for your visit to Swansea and the Grand Theatre.
About the Grand Theatre in Swansea
The Grand Theatre in Swansea is a historic and iconic building and opened in 1897. The theatre has been threatened with closure in 1968 however following a campaign the theatre was saved. The Swansea Council has been the owner of the building since 1979. The theatre has seen various updates and refurbishments in 1983 and 1987. In 1999 the Arts Wing was opened by Catherine Zeta Jones.
There is always a variety of shows on at the Swansea Grand Theatre. These include plays, pantomime, music shows and stand up comedian. You can check what is on at the Grand Theatre here.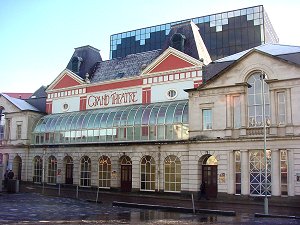 B&B near Swansea Grand Theatre
Our B&B is the perfectly located at Swansea Bay located closely to Swansea Grand Theatre. Have a fantastic evening enjoying a show in the Grand Theatre and make it a night with a great meal and some drinks afterwards. Visit the Grand Theatre and book a room in our friendly family run B&B to make it the perfect night or even weekend away. The next day you can visit Mumbles or the Gower and enjoy the stunning views and nature. A light continental breakfast is available.